Hello!
Experience management is a holistic approach to connecting the dots between a brand, its customers, its employees and its products.


Did you know that the four (4) components of experience management impact each other? It is common to find that the departments responsible for brand management, customer experience, employees and products in an organization work in isolation also known as silos. While this is common, it is a recipe for disaster.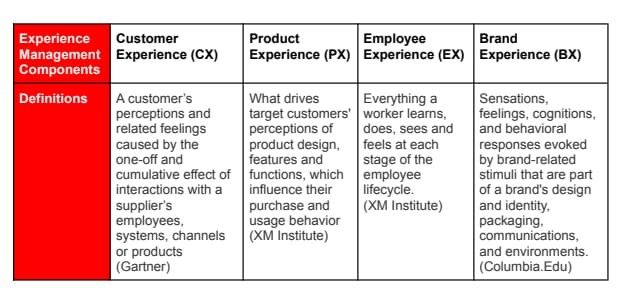 Going by the definition of brand experience from the table above i.e. "sensations, feelings, cognitions, and behavioral responses evoked by brand-related stimuli that are part of a brand's design and identity, packaging, communications, and environments", the needs, fears, wants, expectations and aspirations of the people sensing, feeling and responding should be given the uttermost consideration i.e. your CUSTOMERS and your EMPLOYEES.
Case Study: How Customer Experience Impacts Brand Reputation or Perception
Last week, I saw a tweet from United Bank for Africa (UBA) Group. UBA Group is one of the leading financial services institutions in Africa with operations in twenty (20) African countries.

The tweet contained a well-produced short video about how the bank is building a new world where women are free to be whoever and whatever they want to be. I loved the video and recognized a couple of ladies I know who work at the bank.

Out of curiosity, I scrolled through the 82 comments (at the time I saw the tweet) to read what other people had to say about either the information captured in the video or about building a new world promoting gender equality. It was sad to observe that:
0% of the comments were about the video and gender equality
78% of the comments were complaints from existing dissatisfied customers
21% of the comments were responses from the bank to the complaints in an attempt to resolve the same
1% was a recommendation that summed up a prospective customer's perception of the UBA brand which unfortunately translates to the brand's reputation online i.e. "... this bank seems to have a lot of bad vibes from aggrieved customers paa oo! @UBAGroup solve them out wai"

What do you think about this?


It is not advisable to portray a strong and competitive brand persona when your customers and employees don't have great experiences. Whatever publicity you build around your brand and its values will be marred on social media by customers that have had a terrible experience.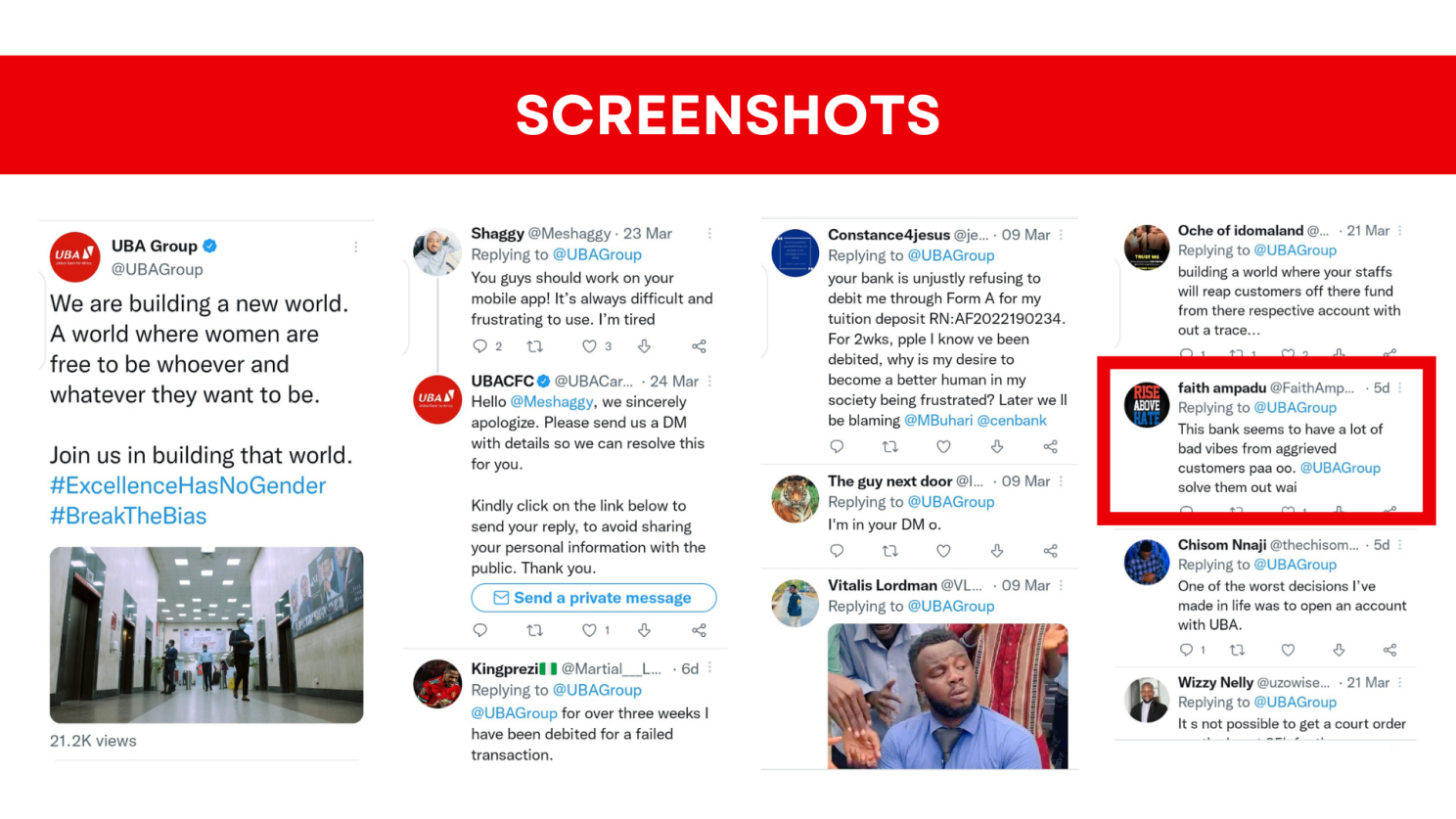 The purpose of the tweet was completely lost in the outcry of aggrieved customers.
What is your truth?
If you say you are dependable, can your customers confirm this based on their experience?
If you say you are a forward-thinking brand, can your customers confirm this based on their experience?
If you say you are a very innovative brand, can your customers confirm this based on their experience? Do your products, services and processes show how innovative you are?

These are questions for us all.


While you may define your brand values and brand identity, your BRAND TRUTH is what your customers, employees and vendors say it is no matter what you publicize.

Remember that the proof of the pudding is in the eating. This means that how you treat your customers and employees should reflect in your brand values.



The CX inspiration for the week?
Take out time to conduct a social media brand experience health check.

What are your customers saying about you online?
What are you doing with that information?
Is there is misalignment between your brand values and your reputation with existing or past customers?
It's time to get to work!

Have a good one!
Great offer today!
50% OFF
on a courses this summer!
It's the NICXI 3rd Anniversary Sale!
Created with