Certified Customer Experience Manager (CCEM)
CX CERTIFICATION COURSE - LEVEL 2
Become a CCEM

Level: Intermediate

Study time: 20 hours

Videos: 8

Exams: 5

File Downloads: 7
Course Overview
This customer experience certification program is designed for levels 3 to 5 employees (supervisors and unit managers) within an organization responsible for retail outlets, customer service teams, sales teams, marketing teams, operations teams, IT teams as well as customer experience managers.

The program is an 8-module certification course designed to equip participants with a deep theoretical and practical understanding of the required knowledge and skills they need to manage customer experience in their organizations or as it relates to their current roles.

Empty space, drag to resize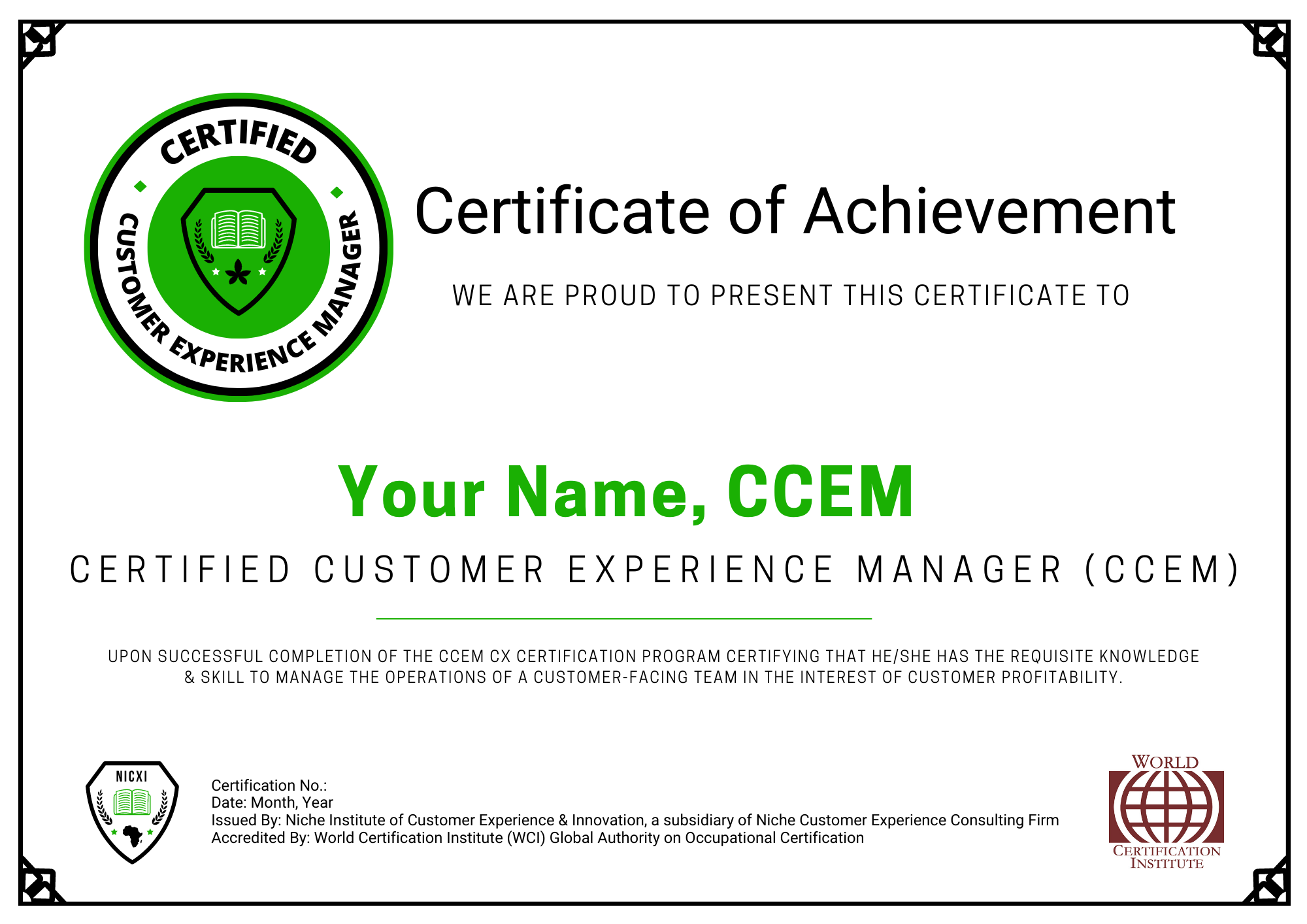 CCEM Certification Requirements, Terms & Conditions
Interested participants must be levels 3 - 5 employees in their organizations serving as supervisors or business unit managers in customer service, customer experience, sales, marketing, operations, information technology (IT), and product/service design.
To become a CCEM, participants are required to complete all course modules & assignments, score no less than 70% in the modules/final examinations and no less than 50% in the capstone project.
If participant fails to meet the course completion criteria, he/she is required to pay 40% of the course fee to repeat the program

CCEM Testimonial


Manager Customer Service Operations & Reporting

This course is a very practical course for CX professionals which will equip them with requisite knowledge and skill for carrying out CX activities. It was a very practical, brain-stimulating and a totally beautiful learning experience for me. A training worthwhile, simply put!
CCEM Testimonial
Senior Specialist, Service Assurance
I found the application of theory to practice very useful.
The course was very engaging. I am now more aware of how customer experience can be implemented in an organization.
CCEM Testimonial
Team Lead, Service Measurement & Improvement
It shed more light on what is expected of me as a CX personnel and team lead. The reason why things should be done in a certain way and the importance of customer journey mapping, feedback management amongst others.
CCEM Testimonial
Customer Service (CS) Manager
I found this training very useful. I honestly didn't know some basic CX stuff like CJM and the importance of creating a persona. The Customer Feedback Management Module was another good one for me. I'm more equipped with the right information to hand-hold my organization towards improving our CX.
CCEM Testimonial


Head, Group Operations

The organization of the content is great. The allocated time is perfect. Practical sessions brought the knowledge acquired to LIVE!
Listen To & Watch CCEM CX Certification Feedback
Meet the instructor
deBBie akwara
deBBie akwara is a customer experience consulting practitioner with 20+ years of experience in sales, relationship management, customer service, human resource management, total quality management, brand and marketing, business development and customer experience management .
She is the founder and CEO at Niche Customer Experience Group and the chief academic officer at the Niche Institute of Customer Experience and Innovation.


deBBie is a top 50 globally recognized CX thought leader and influencer, a top 50 thought leader and influencer in Africa, a certified experience management professional and a certified management consultant.
Currently, deBBie is a fellow at the African Women Entrepreneurship Corporative (AWEC).
Great offer today!
50% OFF
on a courses this summer!
It's the NICXI 3rd Anniversary Sale!
Created with