Customer Service Experience Executive (CSEE)
CX CERTIFICATION COURSE - LEVEL 1
Become a CSEE

Level: Basic

Study time: 9 hours

Video time: 8 hours

Exams: 50 Questions

File Downloads: 11
Across 9 modules and 100% self-paced, entry level customer-facing professionals will learn about the below.
customers i.e. needs, wants, expectations, behaviors and importance

customer service i.e. what it used to be, what it is now and its goals

customer service experience

understanding and managing different types of customers

understanding the role and responsibilities of a customer service experience executive (CSEE)

multichannel & omnichannel customer contact management

complaint management

cross selling and upselling

CSEE performance management


AT THE END OF THE COURSE, PROFESSIONALS WILL EB REQUIRED TO TAKE AN EXAMINATION AND MUST SCORE NO LESS THAN 70% TO RECEIVE THE CSEE CX CERTIFICATION.
Course overview
The Customer Service Experience Executive course is designed for customer-facing employees (customer service and sales) seeking to consistently deliver excellent customer service experiences across all stages of a customer's journey while he/she interacts with their organizations.

The program is a 9-module customer experience certification course that will equip participants with the required knowledge and skills they need to deliver great customer service experiences across various touchpoints/channels in an organization to increase customer acquisition, customer satisfaction and customer retention.
Empty space, drag to resize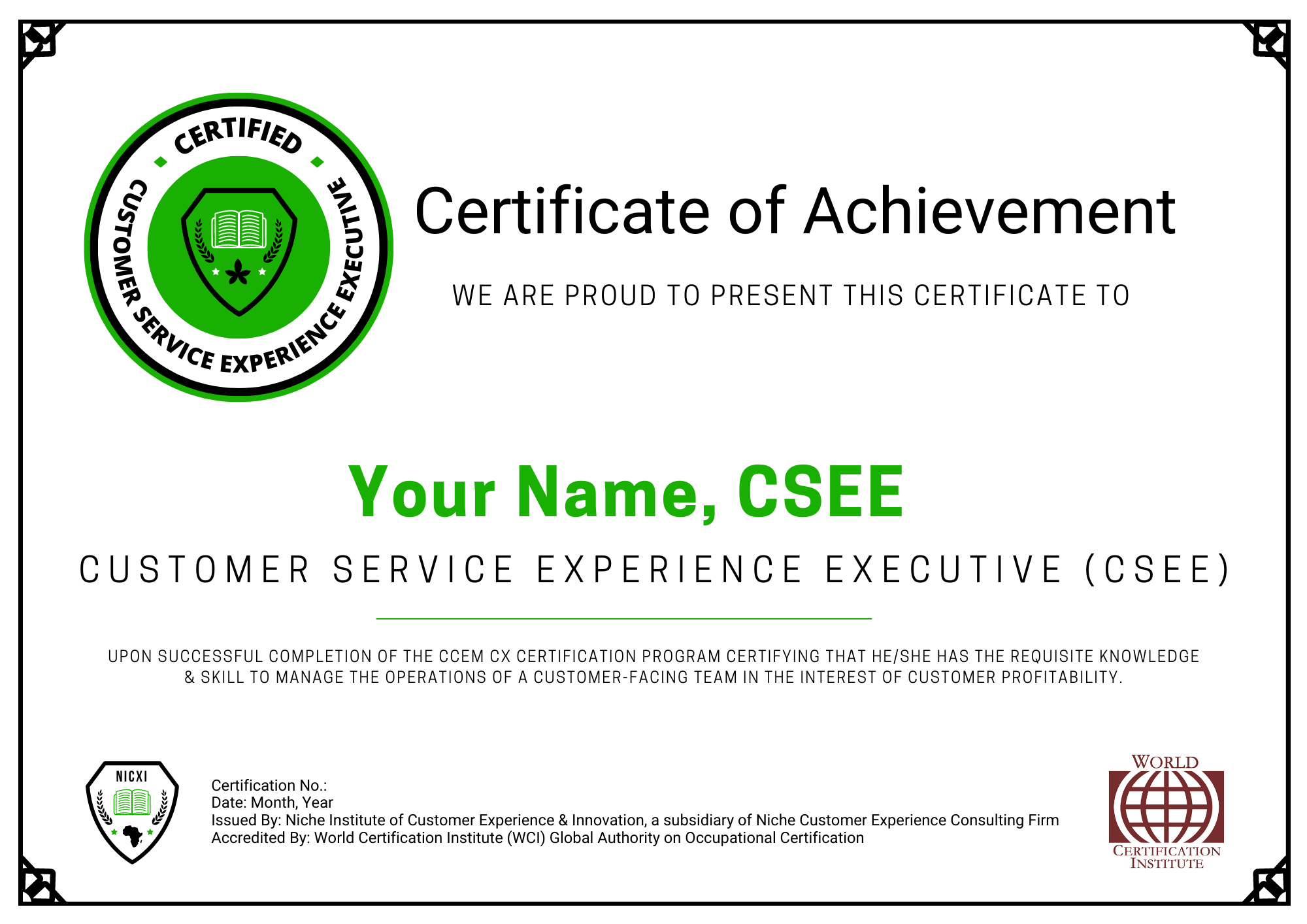 Certification Requirements, Terms & Conditions
Interested participants must be levels 1 - 2 employees in their organizations serving as officers, executives, agents or representatives in customer-facing roles i.e. sales, customer service, customer support, customer relationship management and customer success.
To become a certified CSEE, participants are required to complete all course modules and score no less than 70% in the final examination.
CSEE Certification Feedback
The training was very inspiring.
It was an enlightening experience and I learned how to manage different types of customers.
I learnt new communication skills, mastery of self and a lot about telephone etiquette.
The topics in this course are relevant to what is obtainable in the workplace and every company should sign up for this course.
CSEE Certification Feedback
The course is very impactful in the sense that it has served as an encouragement & eyes opener to positive things that I have been doing unconsciously as a customer service officer & also to drop the bad ones.
After the course, I've also discovered that one can actually build a career in Customer Service.
The Customer Service Experience Executive training is quite impactful & a high-class training. Thanks to NICHE.
CSEE Certification Feedback
The course I believe will drastically improve the knowledge of employees on how to manage their clients.
The Experience was superb as it has seriously improved my knowledge and taught me a lot of things to execute my duties effectively and diligently.
CSEE Certification Feedback
It was a very good experience for me. It showed me things I was doing wrongly with customers especially using the wrong words when relating with clients.
The module on self-mastery was an eye-opener for me. I was able to see how it affects how I am perceived.
The training also gave me the opportunity to interact with my other colleagues thereby revealing to me knowledge gaps on my part as a customer-facing staff of the company.
Meet the instructor
deBBie akwara
deBBie akwara is a customer experience consulting practitioner with 20+ years of experience in sales, relationship management, customer service, human resource management, total quality management, brand and marketing, business development and customer experience management.
She is the founder and CEO at Niche Customer Experience Group and the chief academic officer at the Niche Institute of Customer Experience and Innovation.
deBBie is a top 50 globally recognized CX thought leader and influencer, a top 50 thought leader and influencer in Africa, a certified experience management professional and a certified management consultant.
Currently, deBBie is a fellow at the African Women Entrepreneurship Corporative (AWEC).
Great offer today!
50% OFF
on a courses this summer!
It's the NICXI 3rd Anniversary Sale!
Created with